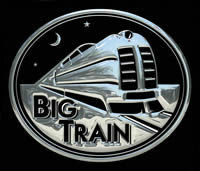 Get On The Big Train!
Big Train
is the soundtrack to a bonfire singalong?the smoke just happens to be coming from vintage amps. Big Train is an amplified guitar/harmonica duo playing a wide range of deep south blues, old school country, traditional folk, and whatever else happens to feel right at the time. Equally comfortable as background music for a crowded pub or filling a spotlight, Big Train is always looking for new fans of that sweet 'ol tone.
"If you know the tune we're playing, feel free to sing along. If you really like the song we're doing, but it doesn't sound familiar, well that's one of our originals!"
---
Big Train News
9/1/2017
Bigger Train??
- The Big Train Wreck is here!
What began as an experiment has turned into a thing. The John and Gary duo has grown to include Donna Chiarelli on bass and KJ Thomas on vocals/uke/kazoo. A bunch of fall shows are coming!
---
3/15/2015
Big Train Gets Licked!
- Big Train music featured on Lizard Lick Towing
An original Big Train instrumental tune is in an episode of Lizard Lick Towing on Dave TV!
Check out the show!
---
10/28/2014
Big Train on ESPN!
- Big Train music featured on ESPN E:60 episode October 28 2014
An original Big Train instrumental tune has been placed in an episode of the ESPN program E:60. New Orleans Saints defensive coordinator Rob Ryan was the focus of the episode, and Big Train's bluesy tune can be heard prominently in the background!
More information about the episode
---
4/9/2014
The Road To Memphis!
- Big Train in OBS Solo/Duo Challenge
Big Train is a part of the Ottawa Blues Society Road To Memphis 2014 Solo/Duo Challenge! Each year the winners in the OBS challenge represent Ottawa at the International Blues Challenge in Memphis! Big Train are up against some stiff compeition so come on out to Irene's Pub Wednesday April 16th and check it out! First act is on at 7:15pm sharp!
Check out the OBS info page
---
3/3/2014
On TV
- Big Train Gets Tickled!
An original Big Train instrumental tune has been placed in an episode of the Discovery show Tickle! We're still going through them to figure out which episode but hey we're practically famous!
Check out the show's site
---
1/24/2014
On The Radio
- Big Train Pull Into The Station
Specifically CKCU at 93.1FM on January 24th for the Friday Night Truck Stop with Ray Harris and Lefty McRighty. It was all train songs all the time.
Click on this link, zip ahead say forty six minutes and thirty one seconds and you'll hear some Big Train tunage that was performed live on the radio. Yep. Just like the Grand ole Opry. Check it out.
Click here to listen to the archive of the CKCU FM broadcast
---
Show older news